Gone are the days of watching low-quality video on our phones. With the rapid development of technology, we have started to use our mobile phones to watch online videos on YouTube, Instagram, Netflix, Amazon Prime Video, Hulu, HBO, etc. Still, many Android users prefer to download their video files offline and watch them whenever they want. The only difference is that there are amazing third-party apps that allow you to watch high-quality videos without any interruptions.
What are the best free Android video player apps ?
These third-party video players on Android phones offer a lot more than just simple video streaming. There is now a range of powerful and futuristic video playback apps available for you to enjoy the full home theater experience anytime, anywhere on your Android smartphone.
10 Best Free Android Video Player Software Collections
Below, we've listed the best Android video players of 2022 that you might like!
#1 MX Player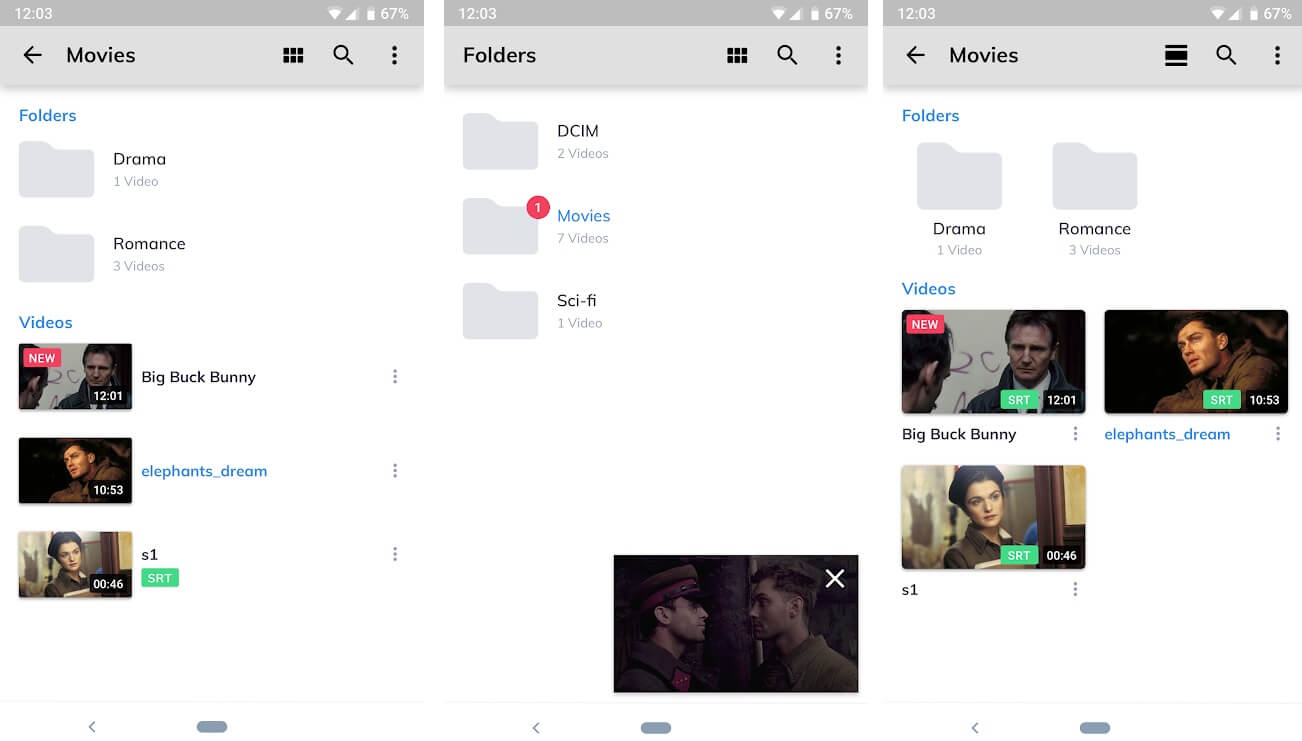 Commonly used free Android video player software recommendation :
If you often watch videos on your phone, then you must have heard of video player – MX Player for Android. This is a super powerful video playback application with a simple interface but advanced features. The application supports subtitles in many formats, such as DVD, DVB, SSA, MicroDVD, SubRip, VobSub, Substation Alpha, Teletext, JPS, WebVTT, Sub Viewer 2.0, etc.
It also has customization of caption gestures. You can control them by scrolling back and forth or moving their position, and even zoom them in and out. The video player also allows you to zoom in and out on the screen.
MX Player claims to be the first video player app on Android devices to allow multi-core decoding. It has hardware acceleration and can be applied to video with the help of the recently introduced HW+ decoder.
The app is not limited to just watching videos; it has a file sharing feature called -MX file sharing that helps you share videos with friends without using any data. In addition to videos, you can also share music and files.
If you're a parent who's concerned that your kids like to scroll randomly while watching videos on their phone, MX Player is here to help too. They have a feature called child lock. It will prevent your kids from making any calls or using anything else while watching the video. So, you can rest assured to save all of your kids' cartoons on MX Player and let them enjoy them to the fullest.
Overall, the app is great and it's free. It does contain ads, which can be annoying at times. The app has a score of 4.4 on the Google Play Store and is available for download. Download now
#2 VLC for Android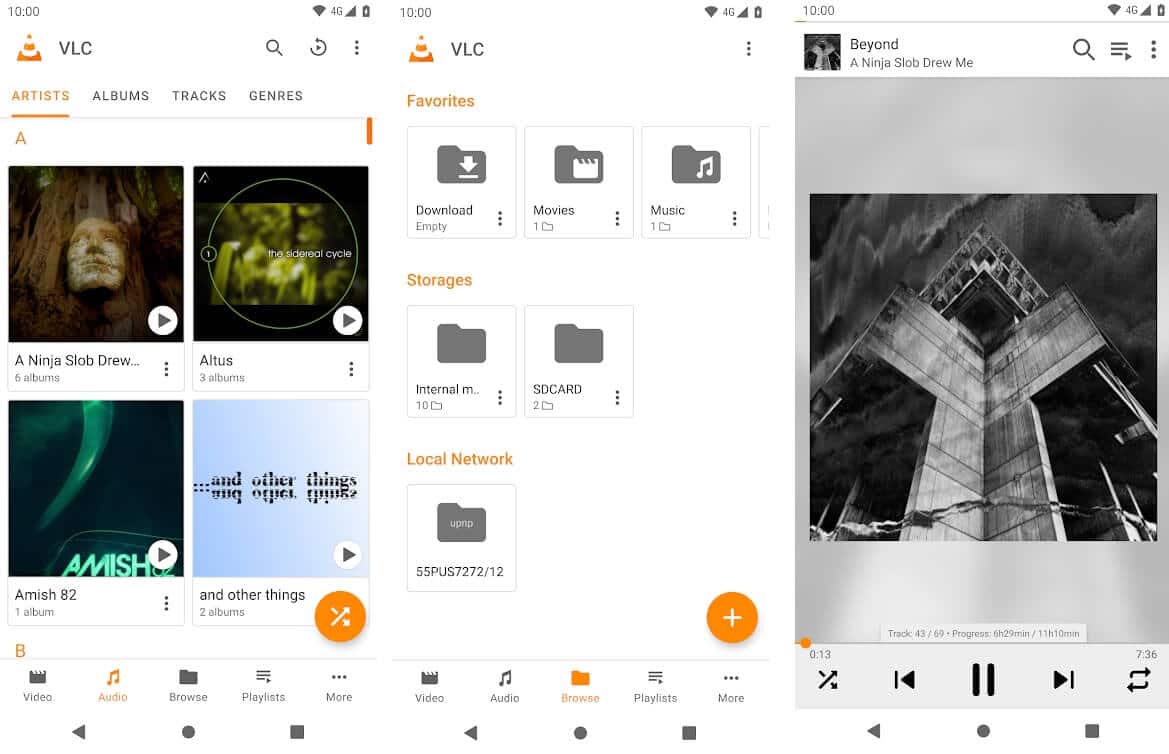 Best Free Android Video Player App Download :
I'm sure everyone has used VideoLabs' VLC media player on their desktop. But did you know there is a separate video player called VLC For Android from the same developer that brings all the benefits to your Android experience? Use it to play local video files, audio files, and even network streams, network shares, DVD ISOs and drives. It is a portable version of desktop VLC.
Create a media library and easily browse your videos offline. There are no interventions and in-app purchases to get you into trouble while watching videos. VLC for Android supports all formats like MKV<AVI, MOV, Ogg, MP4, TS, FLAC and AAC. Subtitles are well supported in formats such as Teletext and Closed Captions.
The app supports auto-rotation, control gestures and aspect ratio rotation adjustment for a better video viewing experience. VLC for Android supports multi-track audio and provides an audio widget on the home screen. This widget makes things really easy and quick when it comes to audio controls or changing audio headset controls. You also have a full library of audio files. No matter how weird your audio format is, VLC lets you play it. The app also allows you to stream to Chromecast.
All in all, it's an excellent choice for your Android video player. It provides high-quality streaming with equalizers, filters and a complete database. This is a free app rated 4.4 stars in the Google Play Store. You can download it from there.
Download now
#3 Plex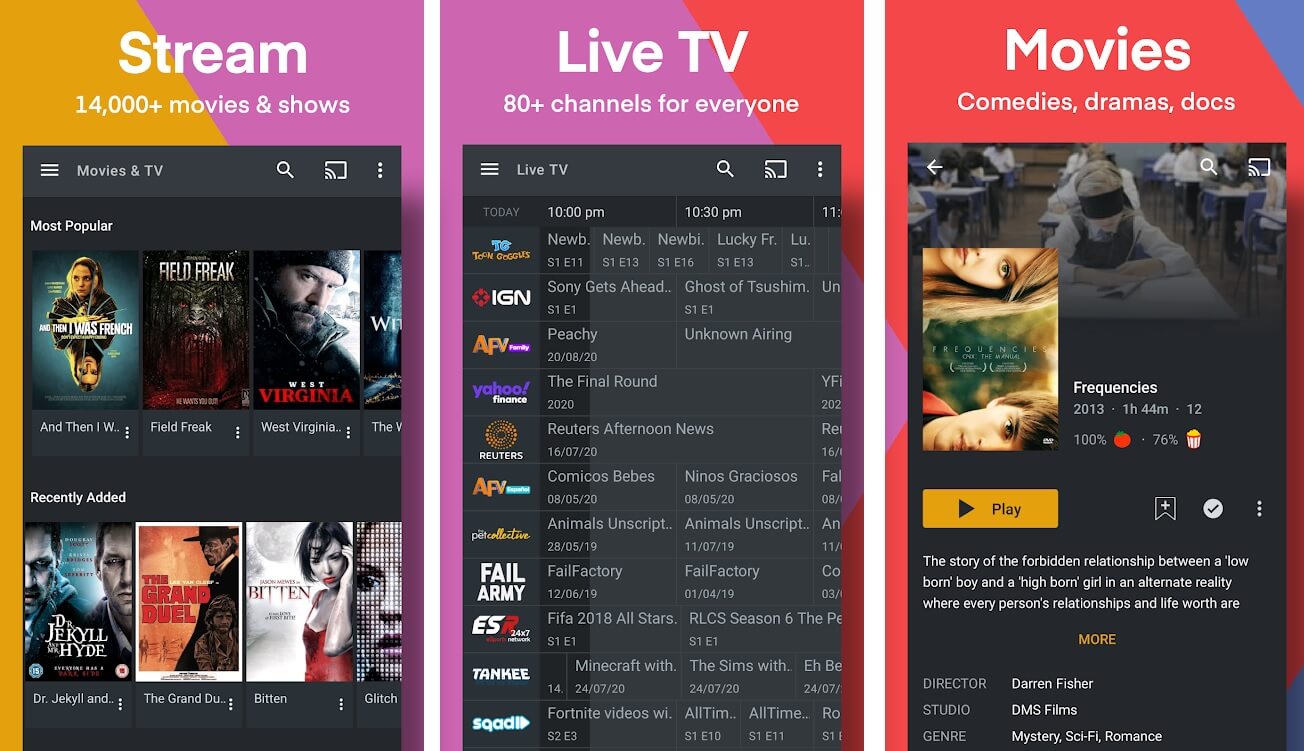 Best Free Android Video Player Software Collection: Another free but amazing video player app for Android users is Plex. You can organize all your media files, such as audio, video, and photos, on your Windows desktop or laptop, then browse them on the Plex app on your Android device.
This third-party video player for android is not only suitable for offline content but also for online streaming. It supports over 200 channels and popular sites like YouTube where you can stream content online.
Plex is a great option for those who don't have enough internal storage on their phone but like to watch a lot of videos and media offline. Since the media you view on your phone is streamed from your computer, it doesn't take up space on your device. This is one of the best features of the Plex app. Now you can watch and download videos absolutely stress-free!
You can also use it as a music player. It features great music streaming from TIDAL, including millions of high-quality soundtracks and around 2,50,000 music videos for you to enjoy. Personalized podcast recommendations help you discover more. The app has great free features such as remote access, security, casting, artwork, ratings, and more.
If you have any videos on your Android device's internal storage or SD card, you can watch them in the sleek interface of the Plex app.
There is a Premium Plex version which adds many new features like movie trailers, parental controls, wireless sync and music lyrics. The price for this version is approximately $4.99.
The app can be downloaded from the Google Play Store. It has a rating of 4.2 stars. It contains ads as well as in-app purchases.
Download now
#4 Archos Video Player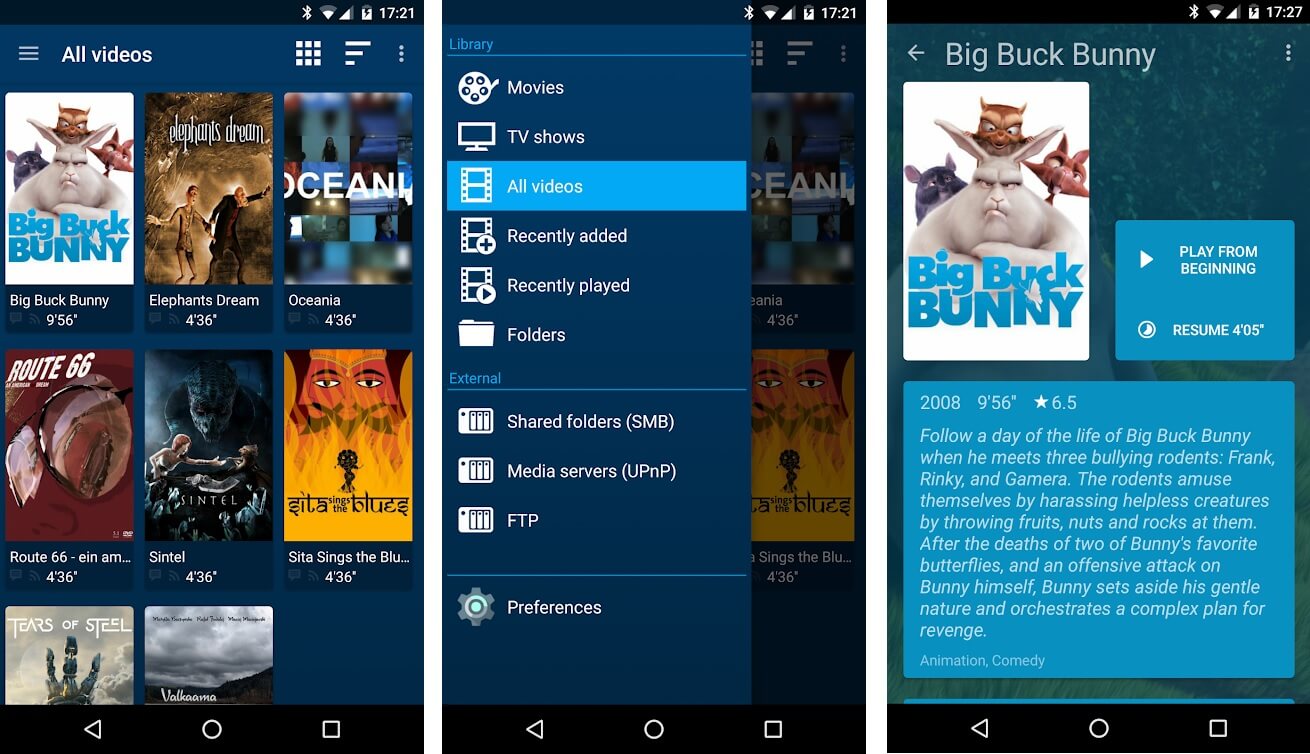 What are the best free Android video player apps? If you want a no-compromise video viewing experience on your AndroidTV, tablet or smartphone, then Archos Video Player is a good choice. It is a popular video player among Android users. This is because it supports all files, even MKV, MP4, AVI, FLV and WMV. The interface of Archos Video Player is very simple, and the controls are also very simple.
You can play videos from desktop or laptop computers, external USB storage devices, and their unified collection of online content. It also retrieves information on movies and TV shows from sites such as IMDb. This will make it easier for you to decide what to watch.
Archos supports subtitle formats – SUB, SRT, SMI, ASS, etc.
Some of the great features of this Android video player include servers, NAS support, 3D support for 3D Android TV, night mode for adjusting audio levels, and integrated support for Nexus players, NVidia SHIELD TV, and Rock Chip.
The browsing features provided by this app are old fashioned and classic. It shows you your recently played and added videos; lets you browse TV series by season and movies by name, genre, IMDB ratings and duration!
There is a private mode where you can watch without leaving any footprints in your history. Subtitles can be manually adjusted and synced, just like audio and video.
It's basically like free Netflix with additional features but limited options. To purchase the full version of Archos Video Player, you need to play a small fee of about $1. Once installed from the Google Play Store, purchases can be made through in-app purchases.
The app has a 3.9 star rating and great user reviews. The app is only compatible with Android 4.0 and above.
Download now
#5 BS Player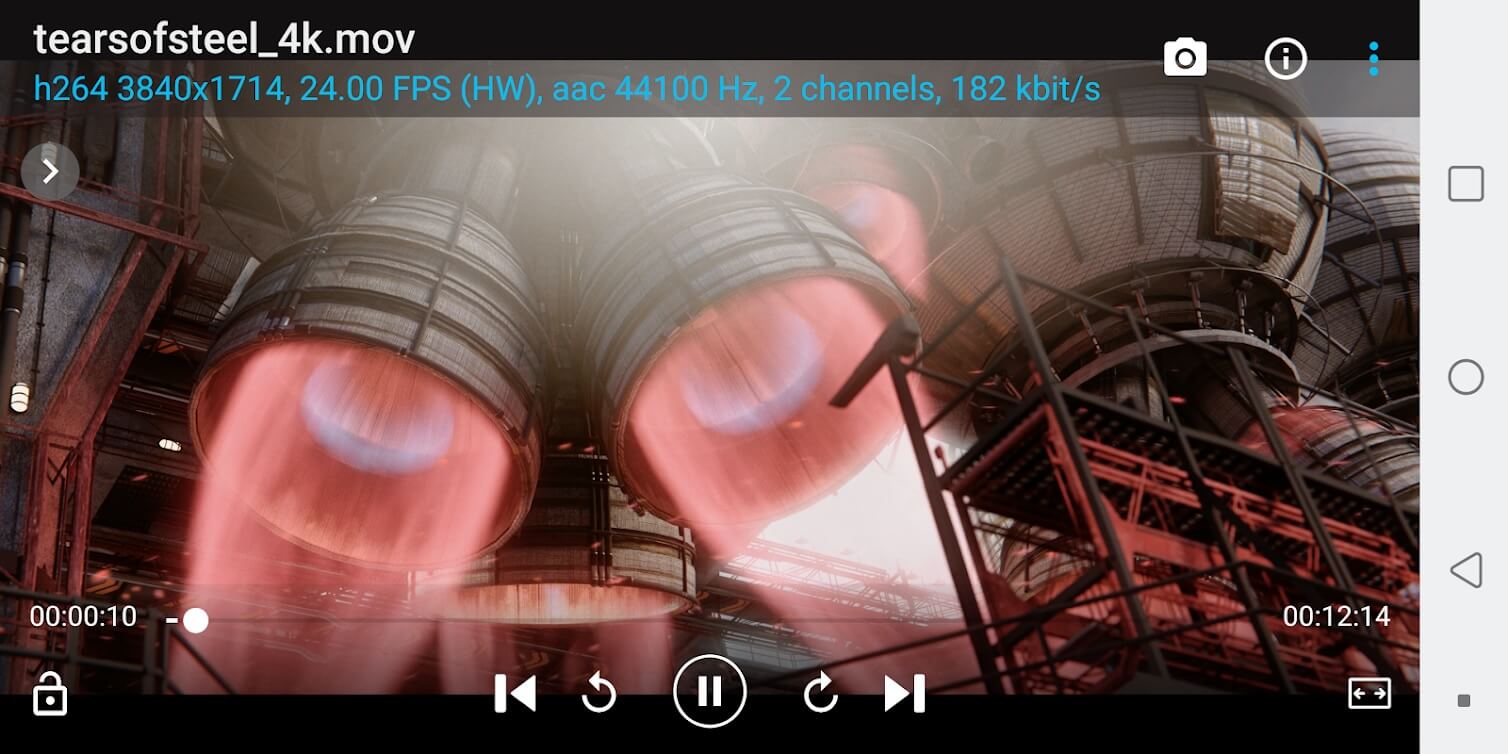 Commonly used free Android video player software recommendation: Popular hardware accelerated video playback application for Android-BS Player. This one has been around for a long time and peaked in time. The BS player has powerful functions such as multi-core hardware decoding, which greatly improves the playback speed and reduces battery consumption at the same time. Therefore, on long journeys, BS Player can be your good partner.
BS Player has multiple audio streams and supports multiple subtitle formats (external and embedded). You can also play videos from uncompressed RAR files, external USB drives, shared drives, PC shared folders and multiple NAS servers.
This Android video player also supports a variety of mobile USB, such as Nexus media importer, USB host controller, and more.
The free version of BS Player will make you a little annoying with ads. You can get rid of these ads by purchasing the paid version of this app. The paid version is $5.99. It will also include some additional features you might like.
The app has a 4-star rating in the Google Play Store. It can be downloaded on the Play Store.
Download now
#6 Local cast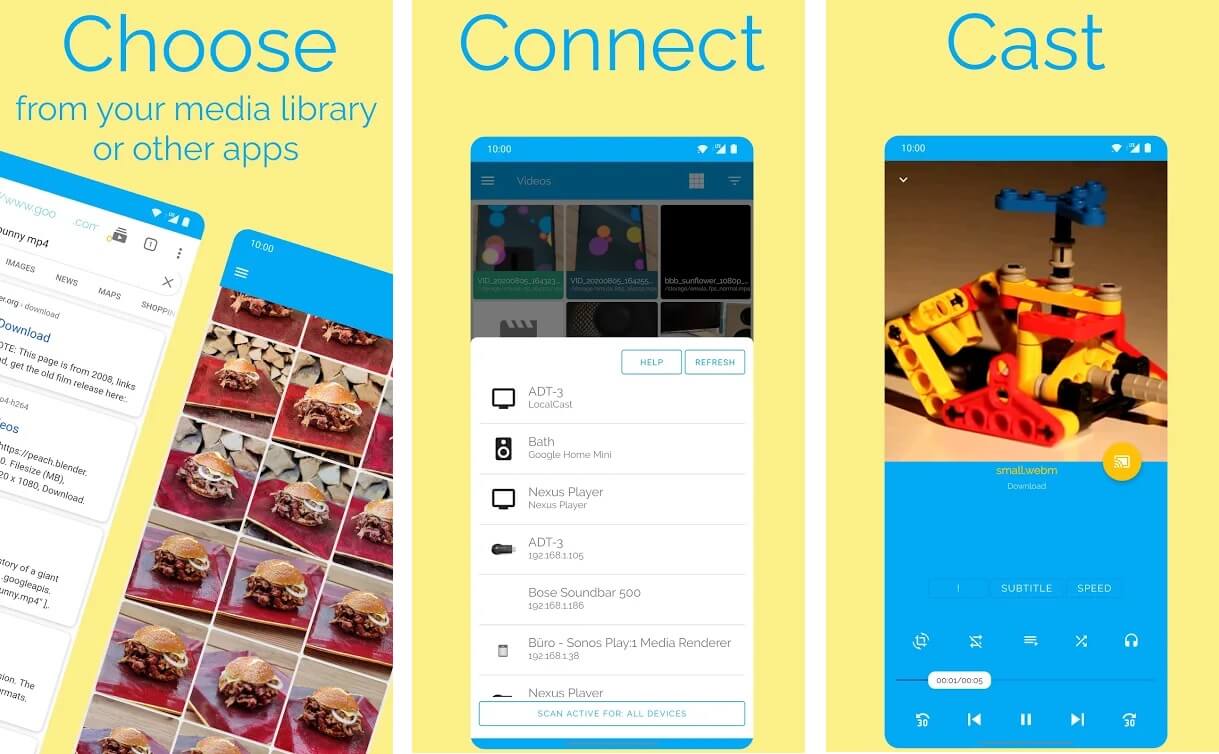 Best Free Android Video Player App Download :
The native Cast app for Android is your great casting solution. Whether it's video, music, or even pictures; you can cast them all. The Local cast app has over 10 million users worldwide. It has a 4.2 star rating on the Google Play Store and is available for download.
You can use Fire TV Mirroring Apps to cast media to Chromecast, Roku, Nexus Player, Apple TV, Amazon Fire TV Stick, SmartTV, Sony Bravia, Panasonic, and more. Use the Fire TV Mirror app. You can even cast to Xbox 360, Xbox One and other DLNA compliant services. Although, you must know that Chromecast only supports a few formats and codecs.
Some other features of the Local Cast app for Android include zoom, rotate and pan, SMB access and subtitles. Subtitles only work if you have an Apple TV 4 or Chromecast.
You can even stream on cloud service apps like DropBox and Google Drive. This app may not have all the features of the other video player apps for Android users on this list, but it does a great job of casting.
The app is essentially free, but it does come with in-app purchases.
Download now
#7 Xender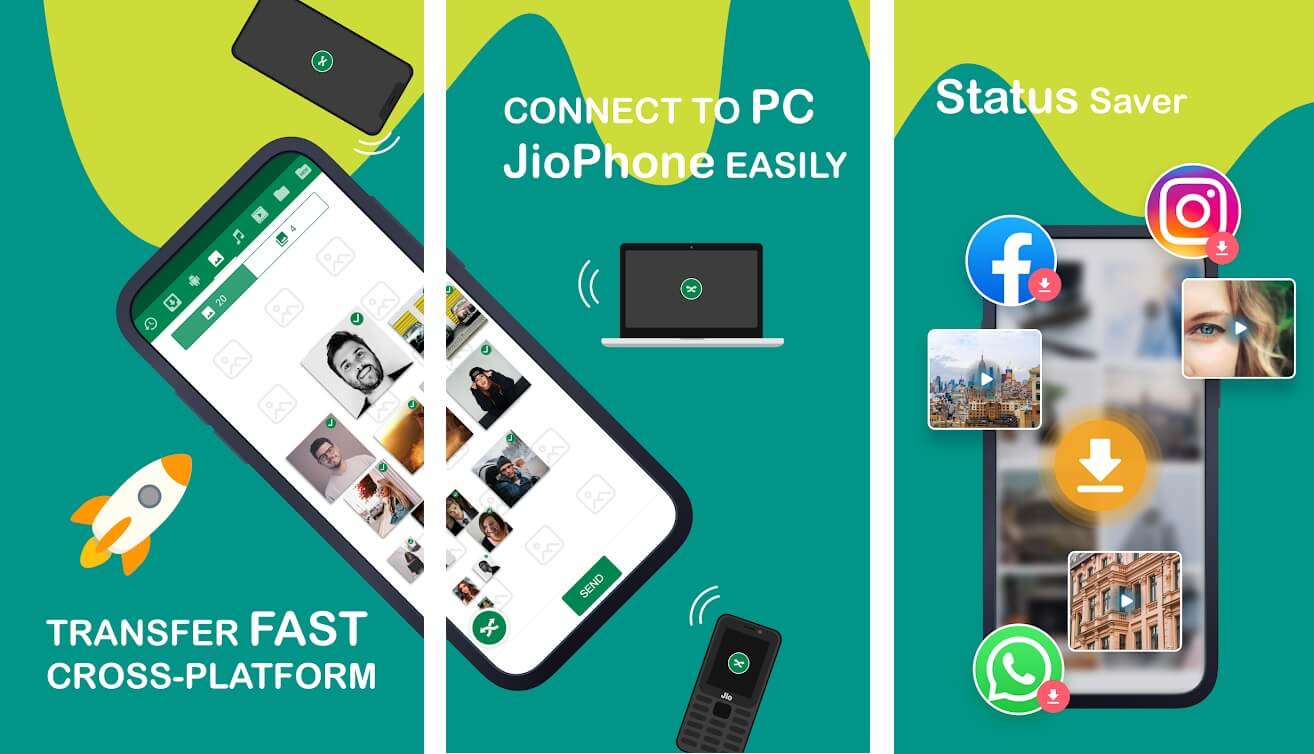 While Xender has made it to the list of the best Android video player apps, you should know that it's more of a file sharing app than a video player. However, it works well for basic video playback. File sharing includes sharing video, audio, and other media via mobile data with people who have Xender nearby. Sharing via Xender is lightning fast.
The Xender app can be used to easily play music and video in most formats. Sadly, it doesn't have any of the advanced features or playback options mentioned in the video player above. If your needs for watching and sharing video files are not very advanced, you can download this versatile Android app.
The reason I recommend this app is because it's free and just perfect for quick video sharing with friends and family via Xender. It has more features such as file manager, smartphone data clone, convert video to audio file, etc.
The Xender app for Android is available in several languages. It has a 4.5 star rating on the Google Play Store and is available for download on the store itself.
Download now
#8 KMPlayer – All Music and Video Player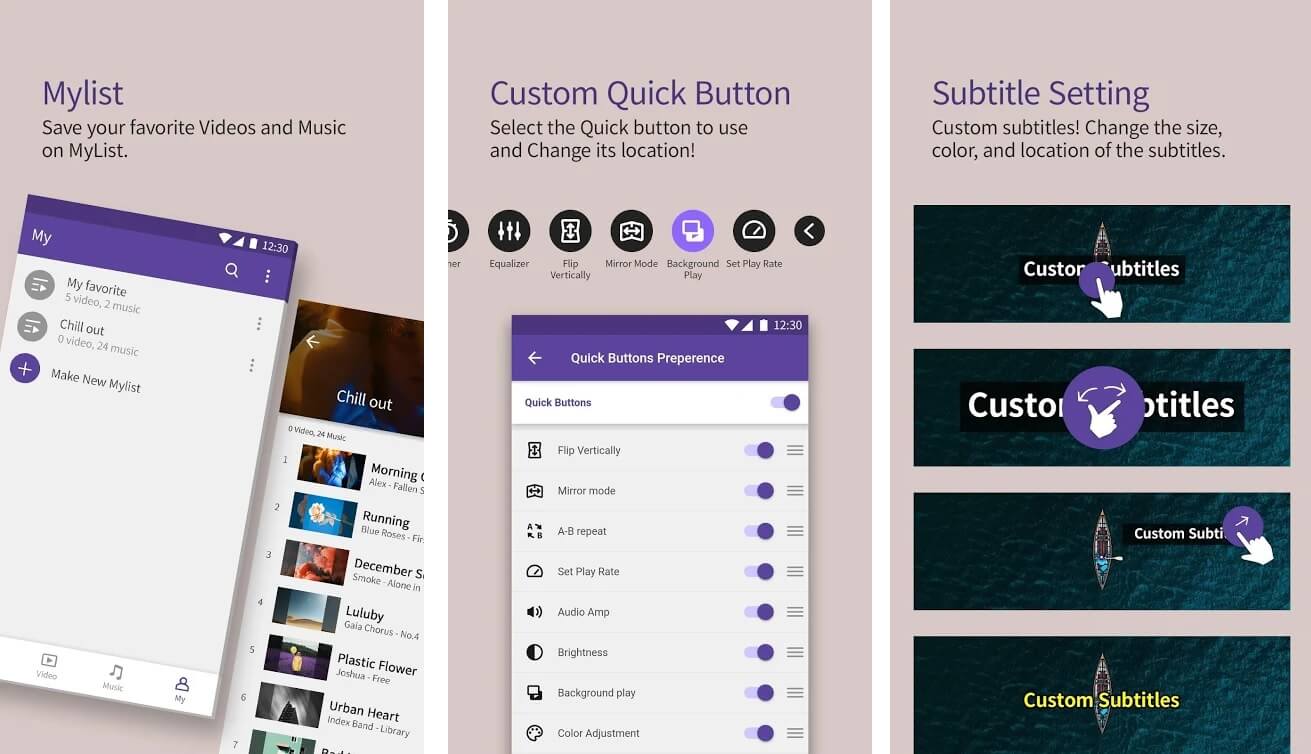 Best Free Android Video Player Software Collection: As its name suggests, KM Player is great as a music player and a video player for Android devices. You name the subtitle or audio format; KM Player is the perfect utility for playing it.
Their updates are frequent and always packed with great extras. Video playback allows playback of high-definition videos. If you want a full HD experience, or even a 4K, 8K or UHD experience, KM Player will deliver it quickly.
You can zoom in and out while the video is playing, and even reverse left and right. Playback speed can be customized up to 4 times. You can even customize and personalize the color, size and position of the subtitles. KM Player's built-in equalizer triples your music experience. There is a search option for quick access to the music files and video options you want to watch. You can play any video from the internet on this Android video player just by adding the URL.
KM Player supports playback of video and audio from external storage devices or cloud services. One of its unique features is called KMP Connect, which allows you to play videos on your PC from an Android gadget. The interface is beautiful and simple, providing you with an enhanced viewing experience.
KM Player has an excellent rating of 4.4 stars on the Google Play Store. You can download the Android app for free from here.
Download now
#9 Wondershare Player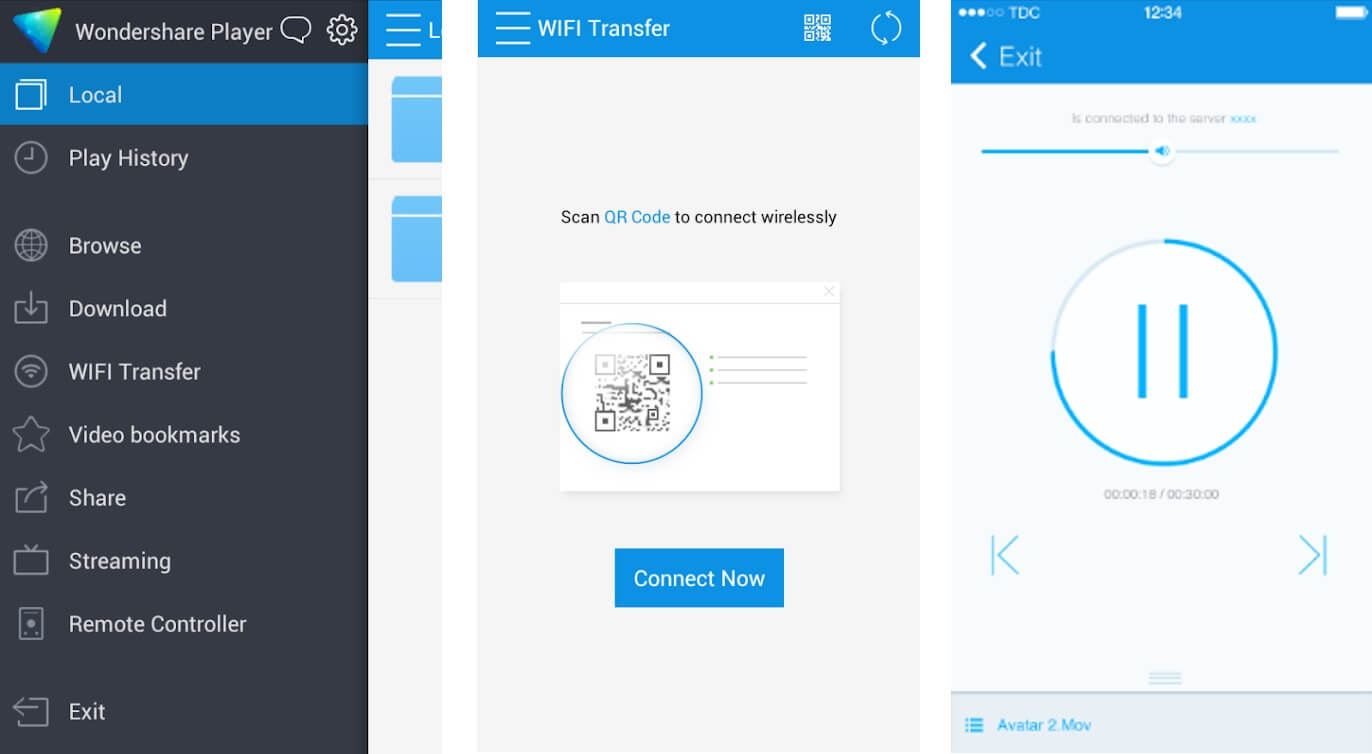 Recommended Free Android Video Player Software: With Wondershare Video Player, your Android device will get more than simple video playback. Android video player has many advantages to make your experience better and more enjoyable. You can discover tons of online videos on this great player and watch videos already on your device.
The app allows you to switch between devices while watching videos seamlessly. You can switch between laptop, PC, smartphone, AndroidTV. You can even play files saved on your PC on your Android device via Wi-Fi transfer.
The best thing about Wondershare player is that it supports all media formats and codecs, which is rare, thus making it stand out among other Android video players. The app also supports embedded subtitle files.
The Wondershare Video Player is rated 4.1 stars by the Google Play Store. You can download it from the Play Store itself.
Download now
#10 Video Player All Formats – X Player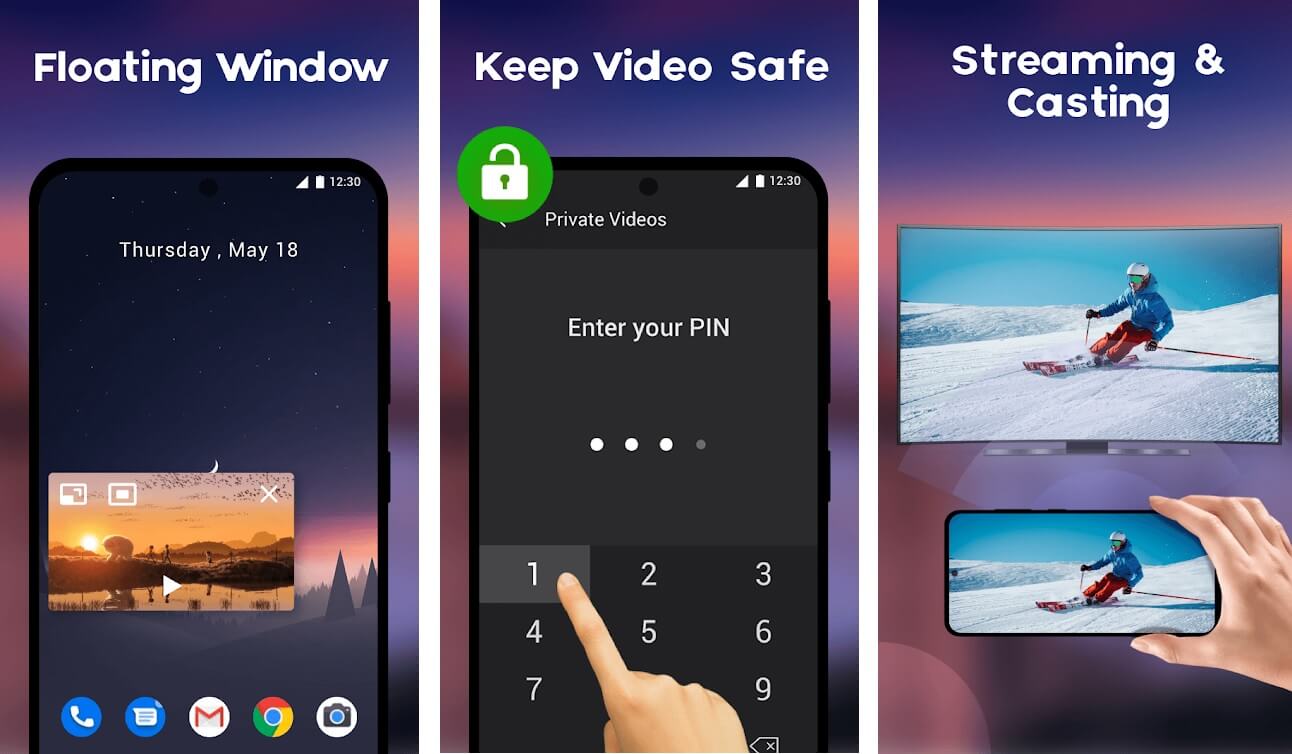 What are the best free Android video player apps? The X Player app for Android devices is a professional video playback utility. The app supports any video format; these include MP4, MKV, M4V, WMV, TS, RMVB, AVI, MOV, and more. You can also watch 4K and Ultra HD video files here. It also provides a great sense of security as it protects your private videos from others who might be on your phone.
It also supports casting your media to your TV with the help of Chromecast and provides excellent hardware acceleration for your video files. You can use this player to play videos in split screen, background or popup. The app supports subtitle downloader.
Some great extras include night mode, quick mute, and playback speed customization. Not only can you watch, but you can also easily manage and share video content.
The app is one of the best in the Google Play Store and has a high rating of 4.8 stars. This is an unbeatable app that will probably never let you down.
Download now
With X Player, the last but best on the list, we've concluded our list of the best Android video players. I hope you have now determined which application best supports your needs and media format.
This is a comprehensive and well-researched list. So you can be fearless and download what you want from the google play store. Please tell us which apps you like to download to play videos on your Android phone. Please leave us a small review in the comments section.
I hope this tutorial was helpful and you were able to find Best Free Android Video Player Apps Download . If you would like to add something to this guide or have any questions, please feel free to contact us using the comments section.
About Author:
Feel free contact anytime. Click here.