If you are looking for the best solution that import VCF file to Google Contacts, then do not need to worry about it. Because in this post we will explain the complete information about the VCF conversion. In this post, we will describe both manual and automated methods. If you want 100% results then read this blog till the end. Without skipping any section of this blog.
Once one of my colleagues requested whether there is any method available to import 500+ VCF contacts into the google contacts in a single go. He stated "Importing several vCards into Google one by one is a tedious and time-consuming procedure. So, I'm not sure how I'm going to analyze 500+ contacts at the same time." Is there any way to solve my problem? If this is the case, please give me a solution as soon as possible."
Do you wish to import VCF contacts into Google Contacts as well? Don't panic if this is the case. This blog has provided an easy and dependable method for transferring vCard contacts to Google Contacts.
Understand the VCF and CSV file formats:
CSV (Comma Separated Value), is a format for saving numerous contacts from apps such as Thunderbird, Lotus Notes, and others.
VCF (Virtual Card Format), often known as vCard, is a digital file format used to store contact information. Among prominent information exchange applications, the format is commonly used for data interchange. Most operating systems, including Windows and macOS, have default apps for creating and opening these files. Contact information for one or more contacts can be contained in a single VCF file.
Google Contacts, originally the Gmail contact manager, is a contact management program developed by Google. The vCard file format (with the extension.vcf) is a standard for storing contact information. A VCF file is another name for a vCard file. This article will walk you through the process of importing VCF to Google Contacts.
Google Contacts does enable importing contacts from a VCF file. Although there are certain restrictions. It, for example, does not permit the import of numerous VCF files. And it occasionally fails to import. Let's first see the pros and cons of the manual method.
Import VCF To Google Contacts Manually
First, sign in to your Gmail account.
Select the "Google Apps" icon and then the "Contacts" tab.
Then, after selecting the VCF / vCard file, press the "Import" button.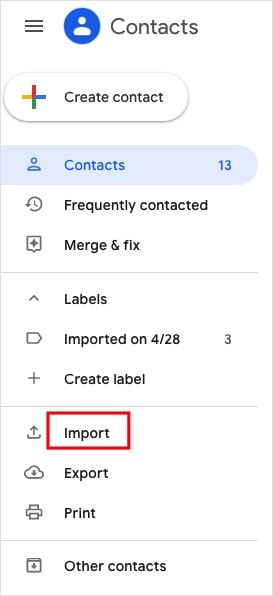 Click the "Select file" button to upload the VCF file from your computer.
Finish! VCF files may be imported into Google Contacts.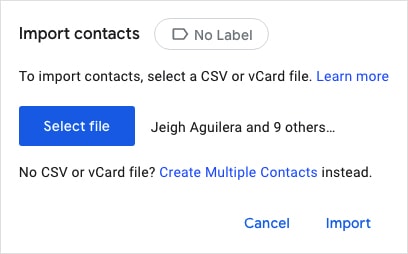 What Causes Manual Method Failure?
● When importing VCF to Google Contacts, you may receive the following errors: "Gmail is momentarily unable to access your contacts", "Cannot import contacts", and so on.
● Import several contacts at the same time. You may import 3000 vCard contacts at a time into Google Contacts.
● Push yourself to the limit. You may import up to 25,000 VCF contacts or 20MB of data. Each vCard contact cannot have more than 128 KB, 500 fields, or 1024 characters per field.
● The format is inconsistent. Ascertain that the contacts you wish to import into Google Contacts are in vCard or CSV format.
● The network has been turned off.
Is There A Way To Import VCF To Google Contacts Automatically?
Because the manual strategy is tough to apply and takes a long time, customers can choose a dependable automated alternative, such as the Softaken VCF to CSV Converter Tool. This is useful for converting a vCard file to Google CSV format. With this program, the converting procedure is simplified and straightforward. The Utility is load with powerful features and functionalities. When working with a VCF file, there is no file size limit connected with the tool. This conversion tool makes it simple to import many vCards into Google Contacts in order to solve no size and data loss issues. It can divide big VCF files and join several VCF files.
It works with any version of VCF and is compatible with all Windows operating systems, including Windows 11, 10, 8, and 8.1.
The Software's Key Characteristics
Converting a VCF file to CSV format quickly.
Offline VCF to CSV Conversion in 4 Simple Processes.
Provide ease of use with self-explanatory steps.
There is no limit to the number of contacts that may be exported to CSV using VCF.
Support for vCard files from Outlook, G Suite, Skype, iCloud, and other applications.
Capable of exporting individual and numerous VCF files to CSV format.
vCard to CSV Converter provides useful functionality
Batch conversion is possible.
Users can load numerous VCF files in a single attempt to convert them into CSV file format using the program. Users may convert vCard contacts into CSV format in a matter of clicks. By following the software's instructions. Users have no issues throughout the changeover.
Display a glimpse of VCF contacts
The software displays a full glimpse of all the imported VCF contacts, including their properties. Users can inspect VCF files here and then disregard empty columns in VCF files. When exporting contacts to CSV format. This professional program allows you to convert VCF files to CSV.
VCF contacts with characteristics can be Export
There is no way for VCF connections to lose any of their attributes. Throughout the conversion process, the program protects all information related with VCF files. You will receive all contact information in CSV format from the VCF file type. It completes conversion in a completely safe and error-free manner.
Conversion is quick and secure
This automatic application converts vCard to CSV in only 4-5 simple steps, which users cannot achieve in any manual way. Furthermore, the program ensures users' data protection and authenticity during the conversion procedure.
Convert VCF to CSV Everyone gets a free trial
We provide a free sample of VCF to CSV Converter Tool. So that you can have a thorough knowledge of the product before purchasing it. It provides users with a comprehensive overview of the product. However, the free version only allows you to convert the first ten VCF files into CSV format.
The tool that is compatible and independent
You do not need any other software to utilize the program. It may be downloaded easily and instantly on any Windows version. Furthermore, this program intelligently converts VCF files from all applications and devices to CSV format.
Free Demo Pack
This program also offers a free demo pack to all users. By using this pack users can convert any 10 VCF file to CSV file formats without spending any money. You can also check its working process and how it works.
 Steps for transfer vCard contacts to Google CSV:
Begin by downloading and installing the Softaken VCF to CSV Converter Tool.
To add the VCF files, click the Browse button.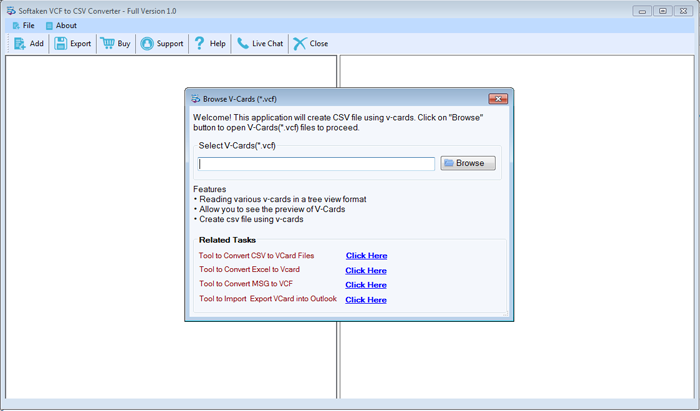 Locate a thorough preview of VCF file.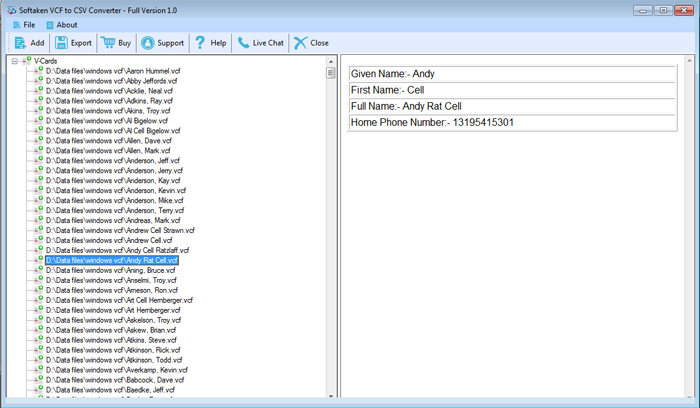 Select a location to save the resulting CSV file.
Select CSV file from given conversion option
Click the Convert Now option to begin the converting process.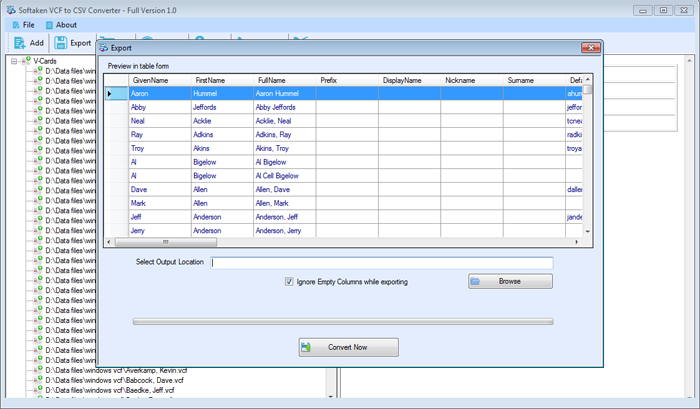 Conclusion
Today, we understand the value of connectedness. As a result, we've provided a tried-and-true method to convert VCF to CSV Google Contacts. This article presents two methods for doing this task. Because the manual approach has certain restrictions. It is advise that you use a solution, which allows you to effortlessly convert vCard files to Google CSV without data loss.